With engaging books featuring diverse characters, Kreitzer's students' achievement scores are now higher than the classrooms using school-provided resources.
Kate Kreitzer, a 5th grade teacher in St Paul, MN, believes that finding culturally relevant, rigorous, and engaging academic material is key to her students' academic achievement.
Teaching reading can be tough when your classroom welcomes kids from all over the world. Some of Kreitzer's students — refugees from Thailand by way of  Burma — have never been to school before.
"Not only are the kids not literate in any language," she said, "their families aren't literate in any language."
Moreover, when Kreitzer started teaching, the books available to her were 30 years old—brittle and dust covered. If there was a character that was a minority, they were mostly shown through historical contexts. Kreitzer believes that this is one of the biggest challenges to getting children engaged with reading. As Kreitzer argues, "Black people shouldn't only see [black people] during slavery or the civil rights movement. They need to see black people being engaged and leaders today."
Kreitzer found the inclusive literature she needed for her classroom on the First Book Marketplace, and reports her students' achievement scores are now higher than the classrooms using school provided resources.
"The marketplace has so many books," she said. "I wanted to text every teacher I knew because literally, when I do my taxes… we spend a thousand dollars on books every year and get back two hundred."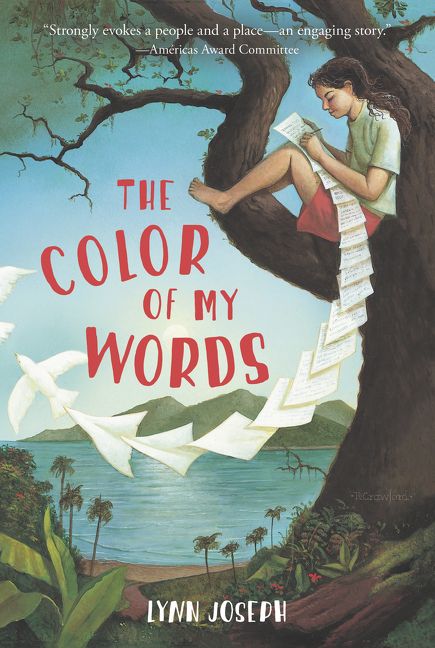 The Color of My Words is one of the many books that has helped her children relate to each other and inspire their love of reading. "That [book] had a lot of Spanish in it," Kreitzer said, "and it was an awesome time for my Spanish speakers to translate and explain cultural nuances that my other kids didn't really understand, and they really got to be leaders."
Other books that have inspired her kids are The Bamboo People, which helped those who weren't refugees relate to those who were through soccer, and Inside Out and Back Again, a story about a girl coming to the United States from Vietnam. Many of her refugee students found the book relatable and a "spot on" example of what they experienced, themselves.
"It's just a real big equity issue," Kreitzer remarks on the challenges of supplying her classroom, "and if this country is going to close the achievement gap, a real thing that needs to happen is to have equitable access to rigorous materials."
Without First Book & its community of supporters, teachers like Kate would not have access to the types of books that changed the dynamic of her classroom and the perspectives of the kids she serves.
Click here to help kids like Kate's start their school year with diverse, quality books and materials. Through September 6, every $3 will provide 2 books for kids and teachers, thanks to a donation match from a generous group of donors.